Best practices for participating in a hybrid event
To ensure smooth experience during the live event, please pay attention to the following guidelines.
General recommendations
Feel free to use any of the following devices: Desktop or notebook (Windows or Mac), tablet or smartphone (iOS and Android)
Please use the very latest version of your web browser and operating system
We recommend the following browsers: Google Chrome, Firefox and Safari
Please prefer a LAN wall connection over a WLAN or mobile connection
Helpful hints in case of problems
If there is no video stream visible or just a frozen image
Reload the entire webpage by clicking the reload button of your browser (top left)
Deactivate any browser extensions (e.g. Ad-Blocker, Security-Plugins, …)
Check with an alternative browser
Check with an alternative device (Smartphone with mobile connection)
If there is no sound
Check your volume setting on the device
Check the speaker device setting on your PC
Check the connection to the used speakers
Check the settings of the Live-Stream Player (see below)
Controls of the Live-Stream-Player
Adjust the volume or mute the audio with the buttons at the right bottom of the player

Use the button with the two arrows to enable the full screen modus of the player. To switch back to normal mode, please press ESC.

Using the chat room
To start the chat, choose a nick name and click "Log in"
Messages that you type and send can be seen by all participants and the event organisers
To open the chat in a new window, please click "Open chat in new window" (useful for two monitor setups)
Safari users, please choose the following settings to enable the chat:
Desktop-Mac
Click on "Safari" in the top menu bar and choose "Settings". Select the tab "Privacy". Disable the options "Cross-site Tracking" and "Block all Cookies". Reload the page or click on "Open chat".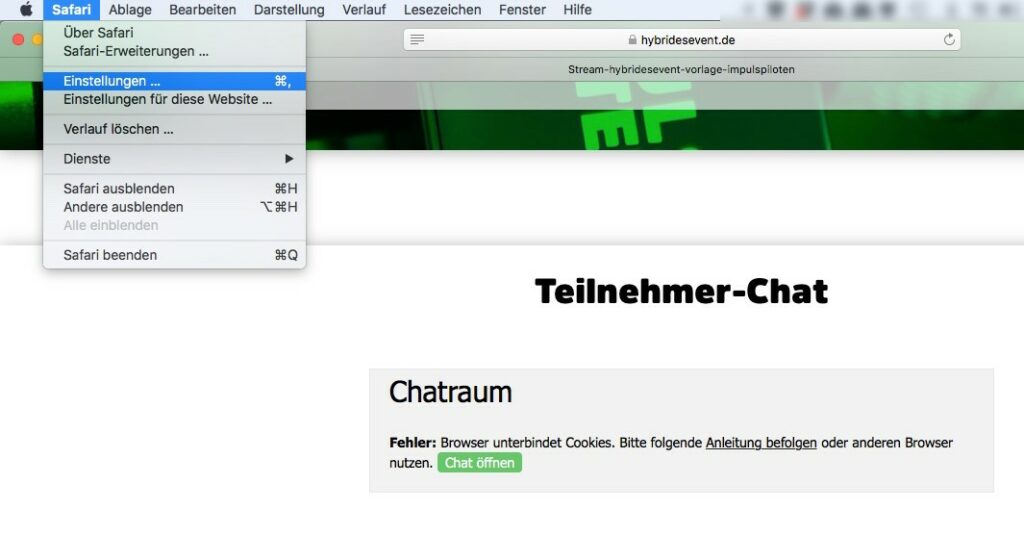 iPhone / iPad:
Open the App "Settings" and choose the sub-menu "Safari". Scroll down to "Privacy Settings". Make sure that "Cross-site tracking" and "Block all cookies" are both disabled.